We have raised $2,010,742.83 for Cancer!!!
Thank you to everyone who has helped make this happen.
2017 Winner of
29th Annual Sandy Corley Memorial Run Raffle Bike

2016 Winner of
28th Annual Sandy Corley Memorial Run Raffle Bike

2015 Winner of
27th Annual Sandy Corley Memorial Run Raffle Bike

2014 Winner of
26th Annual Sandy Corley Memorial Run Raffle Bike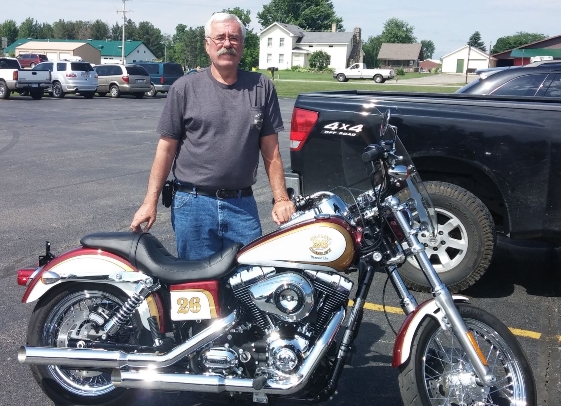 We need YOUR help!
Please consider volunteering to help at the Sandy Corley Memorial Run
Look at the roles we need
We need help at these times:
Wednesday 7 -10
Thursday 6-10
Friday 9:00am-10:00pm
Please email biker4312@aol.com or call 231-740-4565
We are in need of flag carriers for flag line –do not have to be a veteran to carry flag meet at 700 behind the bleachers and bring a friend –you will not miss anything by doing this.

VOLUNTEERS NEEDED FOR GROUNDS OPERATION AT DOUBLE JJ FOR THE
2017 SANDY CORLEY MEMORIAL RUN
Areas needed are:
Traffic, Parking, Campground, Set Up & Clean Up
Either 4 or 8 Hour Shifts (12-4pm, 4-8pm, 8-12am)

Concert Help:
Thursday, Friday & Saturday evenings
On Stage & Backstage
If you are interested please email Dan Shaw at
Dshaw400@comcast.net
THANK YOU to all volunteers, past and present!
---
Don't miss the World-Famous HOG Auction on Friday July 21st starting at 5pm.
To come
SCMR items available for purchase.
Craft Fair
Sandy's Harley-Davidson is hosting a Vendor Craft Fair. We hope, with your help and the help from our community, that this craft fair will be a wonderful experience for both vendors and customers.
If you would like to participate in this years' craft fair, please complete the attached form and return along with your check to secure your booth space in this fair.
Checks should be made payable to SCMR Fund and mailed to the address listed on the form. Please note that we are only allowing one Direct Sales Representative per Company to be represented at our event. The first applicant to return their completed form and registration fee will secure their spot.
Your Donated Items Help!
We're looking for more auction items for our World-Famous HOG Auction.
This auction raises money to help fund cancer research and treatment.
The item you donate could help fund the cure for CANCER! Spread the word and CONTACT US for more information on the auction.
You can DOWNLOAD the donation sheet here. Print a copy to share with friends, family and co-workers.
Here are some pictures of previous auction items:
Primitive Camping
Opens Wednesday at 12:00 Noon – $10.00 per person per day (Weds. only)
Must have event ticket for early camping or trailer drop-off.
Get your tickets early!
$60 in advance, $70 starting 7/19 at 10:00 pm
Includes 3 nights of rustic camping on-site! Fireworks, Ride-in Bike Show, Field Events, World Famous H.O.G. Auction, Self-Guided Tour through West Michigan, Forgotten Eagles Beverage Tent.
Adult Party Atmosphere \ Food Available \ No Pets Please!
Raffle: $5 Donation
2017 Harley-Davidson FLS Softail Slim
Event proceeds benefit the Sandy Corley Memorial Run Fund at Mercy Health Partners, Johnson Family Center for Cancer Care.
For vendor information call:
Garry Bredeweg: 616.437.6972 – garyb1584@gmail.com